Our newest projects as of 2013 are currently listed on the News/Project Updates page and will be added to this page in the future. Here are some of our continuing and piloted therapeutic care projects from which our new projects emerge:
Rx Laughter Individual Support Groups - at home care:
We continue to run Rx Laughter therapeutic groups in partnership with clinicians at mental health centers and hospitals. As an expansion of this work, we are now starting support groups for individuals who would like to start their own groups with people who are going through similar issues and would like to get together privately. For instance, if you are a cancer survivor, or are dealing with chronic pain or other serious issues and you would like to start a support group using laughter therapy to relieve anxiety, forget about your problems and perhaps distract from your pain, we would like to help. This is somewhat less formal than the work that we do with clinicians and is a free therapeutic program. You can do this either as part of your existing private support group or you can form a new group on your own. We are currently writing a manual for the best way to start and run your private support group which will be available for minimum cost. In the meantime, we will be happy to help you begin. Please contact us for early guidance.

---
Pediatric Hospitals - Expansion of Therapeutic and Research work begun at UCLA Medical Center:
Following our successful free therapeutic programs and medical research that proved the benefits of comedy viewing during medical tratments at the Mattel UCLA Children's Hospital and UCLA Jonsson Cancer Center, we are expanding our outreach to pediatric hospitals nationwide, specifically in the Pediatric ICU, Critical Isolation and outpatient Emergency treament clinics. Massachusetts General Hospital and other hospitals have begun the process of working with us on bringing these programs to their patients. We are increasingly using digital entertainment with a social media component to reduce pain and anxiety, add a network of social support among children going through similar conditions, and bring comfort and familiarity to their daily routine inside the hospital where they are away from family, friends and their home for extended periods of time. Check back soon for specifics. If you are a child life specialist at a hospital or mental health clinic and would like more information, please feel free to email us at ContactRxLaughter@gmail.com to "Executive Director" and we will respond. Thank you.

---
2013: Rx Laughter Expands to Massachusetts in collaboration with HighPoint Treatment Center for Youth in Addiction Recovery:
As a follow up to our previous therapeutic programs for adults in cancer survivor support groups and outpatient mental health care, Rx Laughter has partnered with Boston's Highpoint Treatment Center serving patients and families throughout SouthEastern Massachusetts. At their "Castle" clinic, Rx Laughter offers free therapeutic programs to teens ages 13 to 18 struggling with addiction recovery (alcohol, prescription medicine, heroin and other drugs). Here, we use age appropriate funny comedy film and television clips via digital media as a source of therapy to open up discussions about serious emotional issues that they are dealing with in daily life such as anger, interpersonal conflict, bullying, parental problems and peer pressure. We are working with Joseph Shrand MD who runs these groups and is also an instructor of psychiatry at the Harvard Medical School.
---
Rx Laughter Improv Workshop for military moms and their families in collaboration with the UCLA Nathanson Family Resilience Center. UCLA Press Release

Rx Laughter conceptualized this project to help military families have fun and learn new communication skills in the process! We brought this idea to UCLA Nathanson Family Resilience Center at the UCLA Neuropsychiatric Institute and to the Second City Improv Training Center who loved it and collaborated with us on this event. Thank you to Catherine Mogil, PhD, Julie D'Amico and Marleen Castaneda of UCLA for all of your hard work and support. Special thanks to Margaret Stuber, MD, the Dean of Medical Education and Professor of Psychiatry at UCLA.

---
Collaboration with Markstein Cancer Education and Preventive Services
at Alta Bates Summit Medical Center in San Francisco Bay area:
Rx Laughter collaborated with the Markstein Cancer Education and Preventive Services Center team on a project our charity created that uses segments of classic and contemporary tv shows & films to help elicit disclosure for improved wellness for people in cancer support groups.
The Founder of Rx Laughter reviewed numerous clips that would address issues of importance that could be used in a sensitive, compassionate way. In addition, we worked with their team to develop a confidential questionnaire for each participant so that we could gauge the results and learn more about the potential benefits and/or drawbacks of implementing this concept into other support groups.
The consensus was that this helped to"unclot" feelings and offer new, upbeat ways of discussing issues that affect relationships and personal issues during recovery of cancer treatments.
New projects include social media as well as in-person support groups. Clips from classic and contemporary musicals, sitcoms, stand up comedy shows are now included so that children and adults of all ages can use this resource depending upon their interests.
Please contact us if you would like to find out the best way to use comedy clips in your in-person or online support group. We will guide you thru the process to avoid any pitfalls or problems.
---

Rx Laughter Therapeutic Role Playing:
Collaboration with the Los Angeles Edelman West Side Mental Health Clinic
(Division of the California Department of Mental Health)
Classic and contemporary humorous films, discussion and improvisational comedy were combined to illustrate positive ways of coping with a topic of importance for these clients.
The Founder of Rx Laughter worked closely with psychiatrists and clients to decide topics to address, role playing techniques, and the selection of appropriate, funny film clips to use in this innovative therapeutic project.
Psychiatrists, social workers and nurses participated in the improv sessions with the clients to reduce the barriers and stereotypes that often exist between the "patient" and the "doctor." Everyone answered a self report questionnaire that we developed in collaboration with a Psychiatrist and a client who was transitioning from inpatient to outpatient treatment.
This workshop proved to be beneficial for the clinical teams and the clients. It offers new ways of approaching problems of daily living that will reduce stress and improve relationships. This project also helped Rx Laughter understand the best way to produce future workshops of this type for inpatients at psychiatric and alcohol and drug abuse rehabilitation facilities. This workshop also has the potential to also improve quality of life and well-being for people suffering with Post Traumatic Stress Syndrome in one-to-one or group in-person and online workshops.

---

Rx Laughter Improvisational Workshop:
Collaboration with ComedySportzLA & UCLA Hematology Oncology Division
PHOTOS
The first Rx Laughter comedy improv workshop began in collaboration with the ComedySportzLA performers for patients and families from the Pediatric Hematology Oncology Division of the Mattel Children's Hospital @UCLA.
Freedom from thinking about illness relaxes the mind, body and spirit. Rx Laughter brought together & developed this project in collaboration with the clinical team at UCLA and the ComedySportz LA team to produce a workshop that would improve self-esteem and offer relief from the stress and worry of cancer treatments and recovery for these teens and their families. As shown in the Photos in the above link, a great time was had by all!
We are deeply appreciative of the extraordinary generosity of
ComedySportzLA
and the National Comedy Theatre Organization for making this inaugural event a success. Special Thank you to Theodore B. Moore MD, Clinical Director of the Pediatric Hematology Oncology Division at the Mattel Children's Hospital @UCLA.
---

Comedy DVD's for Pediatric Patients:
As our research with UCLA Jonsson Cancer Center indicates, watching humorous videos during painful medical procedures helps children and teens deal with pain & anxiety to a significant degree. Thus, pediatric outpatients who have chemotherapy, dialysis, and numerous other medical procedures can benefit greatly from laughing at classic & contemporary films and television shows each time they receive their treatments.

It's easy to donate: Just contact us and let us know which clinic or hospital you would like to give your dvd's to and we will contact the appropriate person there and make it happen quickly and easily. Perhaps you might even like to organize a local drive with friends, family and colleagues. Please put "To Executive Director" in the subject line so it does not go to Spam.

Please note that if you would like, this can be a tax deductible donation to the hospital or clinic that you select.

---

Hurricane Irene - East Coast Performers:
If you are a performer who is in the vicinity of Hurricane Irene on the East Coast, please help cheer up people who have had to leave their homes and temporarily re-locate to their local shelter during clean-up efforts. Just contact us and we will help arrange a visit in an area of your choice.

---

Rx Laughter DVD & VHS Donations to Hospitals & Shelters:
Rx Laughter distributed many classic & contemporary humorous films to several regional pediatric hospitals, hospices, women's shelters and seniors nursing homes. The first round of donations went to the Sierra Vista Regional Medical Center in San Luis Obispo, California.
---

Rx Laughter at UCLA Pediatric Hematology Oncology Infusion Clinic:
Rx Laughter developed and implemented a pilot project at the above UCLA clinic for children undergoing chemotherapy and other infusion treatments. Pre Med students volunteered their time and talents to Rx Laughter to help the child and family through painful and traumatic infusion treatments. The volunteers worked with nurses and child life staff on behalf of Rx Laughter, and learned how to work within a clinical setting in this way. We consider this pilot project a great success and we appreciate the support of Theodore B. Moore MD, the Clinical Director of Pediatric Hematology Oncology at UCLA.
---

Rx Laughter & the California Foster & Kinship Care Education Program:
We donated Rx Laughter t shirts to all of the Foster children and teens who attended summer camp at Camp Ocean Pines in the seaside village of Cambria, California. We look forward to helping brighten the lives of the children and young adults who are part of this Foster care program for many summers to come.
---

Rx Laughter - Pediatric Therapeutic Care: Past, Present and Future:
Videos - Rx Laughter in Action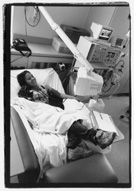 photo of pediatric patient at UCLA taking
part in Rx Laughter therapeutic project.
Photo courtesy of Leslie Barton Photography for Rx Laughter
Through our multi year research with the UCLA Pediatric Pain Program and The UCLA Jonsson Cancer Center, we have learned that children do indeed tolerate pain better during medical treatments if they can watch comforting, humorous videos during the painful procedure. This research collaboration suggests that viewing enjoyable entertainment is a potent prescription for pediatric pain and fear: This research was published in the Journal of Complementary and Alternative Medicine medical journal in October, 2007.
Thus, Rx Laughter has put this research into practical use for pediatric patients with cancer and other serious & painful medical conditions:
Practical Usage for Pediatric Patients: Accomplishments thus far:
For the past several years, Rx Laughter has implemented and overseen the "Rx Laughter closed circuit comedy Channel" at the Mattel Children's Hospital @UCLA for Pediatric patients in 2 units: Pediatric Critical Isolation Unit (Hematology Oncology inpatients) and Pediatric Intensive Care Unit.
There, we showed a range of age-appropriate, distracting, enjoyable videos to pediatric and teen patients under the supervision of Rx Laughter volunteers with cooperation and support of the nurses and the Clinical Director of Pediatric Hematology Oncology. The reaction was positive from the patients and their families. Results: Renewed spirit, emotional comfort and relief from pain.