"Laughter is the tonic, the surcease, the relief from pain."
- Charlie Chaplin
"Against the assault of laughter, nothing can stand"
- Mark Twain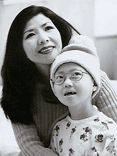 Welcome
Our missions are two-fold: 1) To bring gravitas to the concept of humor and comedy as a coping and health resource within the medical community, and 2) To develop & implement high quality therapeutic, educational and research humor programs for youth and adults coping with serious physical and emotional challenges. Click on Photos below to link to our pages.

---