Charlie Chaplin Greeting Card:
(exclusively for Rx Laughter)
PLEASE NOTE: Out of Stock.
Please email us at contactrxlaughter@gmail.com (Subject: Chaplin card) if you wish to be notified when it is back in stock.
You will receive confirmation by email upon receipt of your purchase.
Please allow 7 to 10 days for delivery
Description of Charlie Chaplin Greeting Card:
This is a beautiful high gloss, thick 4-1/4" x 5-1/2" card with a colorful image of legendary comedian and filmmaker Charlie Chaplin on the front of the card.

This image is generously donated to Rx Laughter Courtesy of Bubbles Incorporated SA on behalf of the family of Charlie Chaplin to help Rx Laughter raise funds for our mission to use humorous entertainment to help those suffering with illness and trauma. 100% of the purchase of these cards goes solely to Rx Laughter.
Cost:
A single card is $3.50 & $1.25 US Dollars for mailing (covers cost of envelope & postage), and is tax deductible. Please note: The rate for international postage may differ. Thank you!

Donors purchase the card for use at Comedy Festivals, Comedy Clubs, as part of corporate gifts, Get Well, Sympathy, Thinking of You, Holiday Cards, Health & Wellness workshops, Senior events, Cruises, Classic Comedy Film Festivals and more!

Image and Text of Charlie Chaplin Greeting Card:
Front of card (card opens lengthwise, like a book):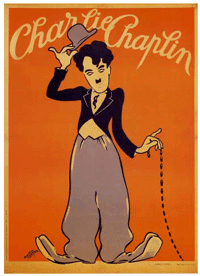 Inside of card (lengthwise):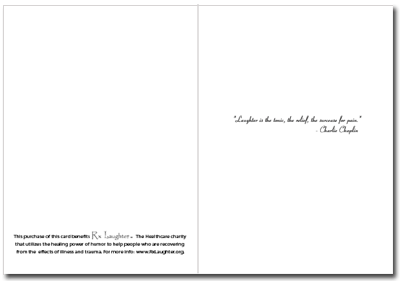 Right Side (middle):

Left Side (lower):

Back of card: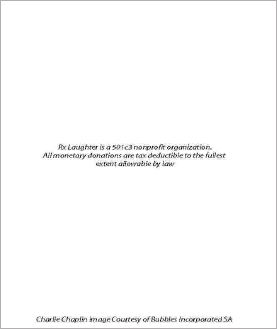 Rx Laughter is a 501c3 nonprofit corporation.
All monetary donations are tax deductible to the fullest extent allowable by law.

Charlie Chaplin image Courtesy of Bubbles Incorporated SA.