Larry David's Curb your Enthusiasm continues their support of Rx Laughter with two tickets to a press dinner and screening of the Season 11 premiere in October, 2021.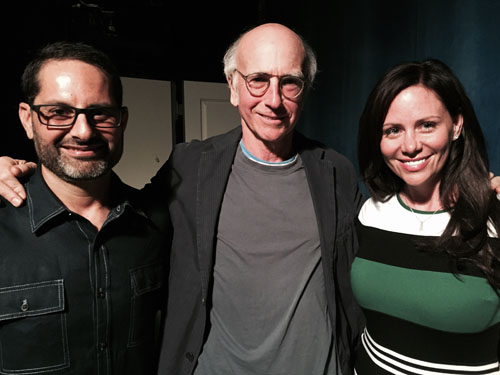 Larry David backstage at his "Fish in the Dark" Broadway show with
winners of Rx Laughter auction. (2 house seats and meet with Larry
David after the show). May 29, 2015.. Donated by Larry David.
Special Thanks to Laura Fairchild Streicher. We are very
appreciative of Mr. David's support of Rx Laughter.
Rx Laughter baseball caps for children undergoing chemotherapy treatment is now a reality. Thank you Deborah Wiskind, owner of New York based DeeJ Design at http://deejdesign.com/ for this generous inkind donation.
March 2015: Rx Laughter Therapeutic Humor Workshop at Franciscan Hospital for Children Inpatient Behavioral Unit in Boston, Massachusetts. Harvard College Stand Up Comedy Society volunteered their time and talents to teach comic storytelling to these children & adolescents.

Harvard Stand Up Comedy Society (l-r ) Alex Iascone,
Anthony Zonfrelli, Dan Fitzpatrick.Franciscan Hospitals
Clinical Nurse Manager Brian Duffy, and Dan Fitzpatrick.
Boston. March 7, 2015.

Rx Laughter Student/Hospital Pair Up" visitors program - Holiday Season 2014 - Georgia
Blacksmill Elementary School Students in Georgia perform for residents of Gracemont Assisted LIving Center during the 2014 holiday season. Special thanks to the parents and student council and to the student volunteers who made this event so enjoyable for the Gracemont residents and staff!
Rx Laughter Ambassador Program:
Michael Fishman volunteered his time and talent as an Rx Laughter Ambassador at the Mattel UCLA Children's Hospital. Michael's compassion and fun-focused visit brought happiness and relief to the young patients and their parents. Thank you so much "DJ" !

November 2014: The Comedy Studio in Cambridge, Mass is partnering with Rx Laughter for the entire month of November 2014. 100% of each donation payable to Rx Laughter that is made at The Comedy Studio will go to fund Rx Laughter free therapeutic and educational projects. Please visit www.thecomedystudio.com for their Show Information for November. Thank you!