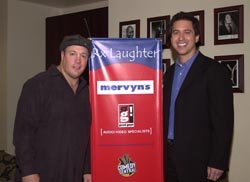 Kevin James and Ray Romano at the Comedy Central & Adlink
benefit for Rx Laughter at UCLA's Royce Hall.
For more, see our Media - Photos page.
The integrity, stable management and thoughtful vision of Rx Laughter is something that we have taken very seriously since we first began our work in 1998. We continue to take pride in our commitment to excellence and high standard of ethics in everything we do, and with every collaboration that we undertake with our Sponsors.

These corporations join us in our desire to harness the healing power of humor and entertainment to improve immune function and healing and bring comfort, companionship, relief & self-empowerment to children and adults who are coping with overwhelming physical and emotional issues.

We attract and collaborate with the very best in medicine, science, entertainment and corporations. The Leadership Team of Rx Laughter is rooted in practical management experience, scientific knowledge, direct patient care, and the belief that positive emotions can have a profound effect on pain management & immune function for patients of all ages.

We welcome new collaborations through cross promotional opportunities. We understand that you may have preliminary questions about sponsorship opportunities. We welcome speaking with you and answering any questions that you may have. Please contact Sherry Hilber, the Executive Director of Rx Laughter at ContactRxLaughter@gmail.com for further information. Thank you for your review of this information. We look forward to hearing from you.



The photo on top of this page was photographed for Rx Laughter by Daniel Longmire of Longmire Photography.