Rx Laughter Board Visits Mattel UCLA Children's Hospital & Medical Center: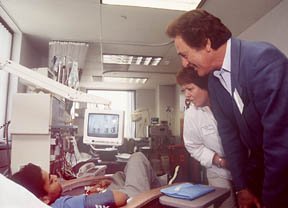 A Dialysis Outpatient at the UCLA Medical Center watches a Marx Bros film during his 3 hour, thrice-weekly Dialysis Treatment, while Bill Marx (Harpo Marx's son) and Chris Costello (Lou Costello's daughter) visit with them.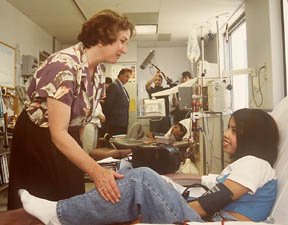 Melissa Talmadge Cox talks about legendary film comedian Buster Keaton & his movies (Melissa is Buster Keaton's Granddaughter) with a teenage girl undergoing outpatient dialysis treatment at the UCLA Medical Center.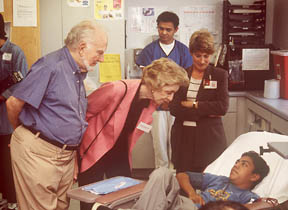 "I Love Lucy" writers Bob Carroll Jr & Madelyn Pugh Davis visit with a teenage boy in the outpatient dialysis clinic, sharing stories about how the show helps the teen to deal with his illness, especially during his medical procedures. (Remember "Vetavitamegamin" or the episode where Lucy tries to make chocolates very fast in the chocolate factory?) Bob & Madelyn wrote those!)
Lonnie Zeltzer, M.D., , Professor of Pediatrics & Anesthesiology, Psychiatry & Biobehavioral Sciences, and Director of the Pediatric Pain Program at the David Geffen UCLA School of Medicine joins in the chat with her own favorite "Lucy" episodes too!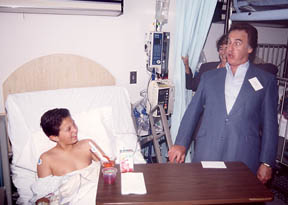 Bill Marx, the son of Harpo Marx (from the Marx Bros films) clowns with an inpatient at the Mattel UCLA Children's Hospital. This photo was taken just a few hours after the boy's surgery, who wanted us to make sure to tell everyone how important it is for doctors to prescribe shows for kids who are sick.